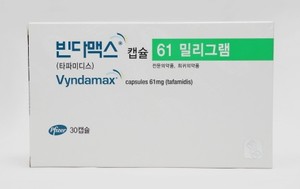 Insurance benefits for Pfizer Vyndamax heart drug uncertain
Pfizer's Vyndamax (tafamidis), a treatment for transthyretin amyloid cardiomyopathy (ATTR-CM), has been added to the European Society of Cardiology (ESC) list of recommended heart failure medicines.
However, observers said it was uncertain whether the treatment was reimbursable in Korea due to the high price.
At the end of August, the ESC released updated treatment guidelines for heart failure, suggesting new treatment strategies for patients with heart failure with co-morbidities.
In the past, the ESC categorized treatment strategies for co-morbidities by disease. In the new version, the guidelines applied the upper categories to "cardiovascular co-morbidities", "non-cardiovascular co-morbidities" and "special conditions".
The ESC guidelines recently included amyloid cardiomyopathy under the "special conditions" category, providing diagnostic and treatment methods for heart failure patients with amyloid cardiomyopathy.
According to the guidelines, amyloid cardiomyopathy (CA) is largely divided into two forms – light chain (AL) and transthyretin (ATTR) amyloidosis. Additionally, ATTR-CA includes wild type (over 90 percent of cases) and inherited / variant type (less than 10 percent of cases).
The ESC guidelines have estimated that 6% to 16% of all patients with unexplained left ventricular hypertrophy (LHV) or HF with preserved ejection fraction (HFpEF) upon hospitalization or Severe aortic stenosis requiring aortic valve replacement, over the age of 65, may have transthyretin-type cardiac amyloidosis (wtTTR-CA).
Thus, patients 65 years of age or older with heart failure with a left ventricular wall thickness greater than 12 mm on echocardiography should be suspected of CA, as directed.
The ESC has recommended the use of tafamidis (Vyndamax) as grade 1B to reduce cardiovascular hospitalization and mortality in patients with grade 1-2 (NYHA class I-II) heart failure with transthyretin AC type wild and hereditary.
While Vyndamax consolidated its effect on ATTR-CM with ESC's recommendation, Pfizer reportedly sought reimbursement from the Health Insurance Review and Assessment Service.
Previously, Pfizer had failed to make Vyndamax an essential drug.
This time, the company is challenging to seek reimbursement using the risk-sharing agreement (RSA) as the government extended the scope of the RSA from cancer and orphan drugs to treatments for serious illnesses.
However, it will not be clear whether Vyndamax will be eligible for an RSA. In addition, some critics have said that Vyndamax is too expensive – costing over 200 million won ($ 170,853) per year in the United States. As a result, the number of target patients could be larger than expected.
In an article published in JAMA Cardiology in June, US doctors pointed out that Vyndamax was breaking even due to its high price almost equivalent to that of orphan drugs. They also stated that ATTR-CM was no longer a rare disease.
The ESC guidelines also indicated that ATTR-CM was underestimated as a cause of heart failure. The guidelines pointed out that current diagnostic tests offer 85 to 100 percent sensitivity and specificity for detecting wild-type and hereditary CA patients.
This indicates that a larger number of patients than expected may be eligible for treatment with Vyndamax.
When the size of the patient group has not been clearly identified, granting reimbursement for a drug that costs 2 million won per year could pose a threat to the financial stability of the health insurance program, said officials. observers.