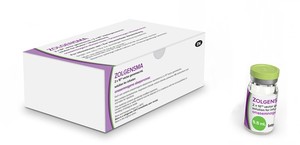 Korea's first gene therapy for SMA Zolgensma obtains insurance benefits
Novartis Korea announced on Monday that it has launched Zolgensma, the country's first gene replacement treatment for spinal muscular atrophy (SMA), with health insurance benefit registration.
SMA is a rare, fatal genetic disease and one of the leading causes of infant death, in which the muscles contract progressively due to the absence or mutation of the normal SMN1 gene.
Patients newly diagnosed with SMA with double allelic mutations in the SMN1 gene, genetic diagnosis of defects or mutations in the 5q SMN1 gene are eligible for Zolgensma insurance coverages. Additionally, patients with a clinical diagnosis of SMA type 1 or with less than two SMN2 gene clones or less than 9-12 months of age at the time of administration may also experience these benefits.
This year, patients administering existing SMA treatments will also be temporarily eligible for reimbursement if they are replaced by Zolgensma.
The "STR1VE" and "SPR1NT" clinical trials confirmed an unprecedented level of survival and rapid improvement in motor ability with Zolgensma. Moreover, a long-term observational study of phase 3 clinical trials of "START" conducted on SMA type 1 showed that the therapeutic effect was maintained for more than seven years after administration.
Zolgensma is the first gene replacement therapy for SMA that can prevent disease progression with a single intravenous administration. Additionally, the drug's novel mechanism by which SMN proteins are continuously produced and distributed in the body after administration reduces the treatment burden for patients and caregivers, and likely supported the insurance coverage decision, the company said.
"I am very satisfied with the assurance benefits of Zolgensma, which can prevent the progression of SMA with just one dose," said Professor Chae Jong-hee of Pediatric Neurology at Seoul National University Hospital. "Since Zolgensma has already shown amazing therapeutic effects globally, we expect the insurance coverage to be an opportunity to change the treatment paradigm for rare diseases in SMA and Korea.
Cho Yeon-jin, Executive Director of Novartis Korea's Ophthalmology Division, said, "We are truly pleased to announce good news to SMA patients and their families who are eagerly waiting for Zolgensma to apply for medical benefits. 'insurance.
The upper limit of the drug's health insurance benefits is 2 billion won ($1.53 million) per kit. However, patients only need to pay a maximum of 5.98 million won.