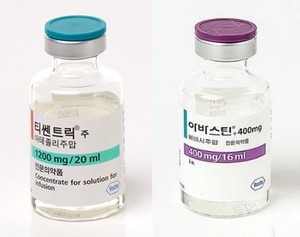 The biosimilar Avastin may provide insurance benefits for Tecentriq
The government has delayed discussion of whether to allow reimbursement for Tecentriq (atezolizumab) due to concerns about rising health insurance costs.
However, the arrival of the Avastin biosimilar could speed up reimbursement discussions for the combination therapy of Tecentriq and Avastin, industry observers have said.
Onbevzi by Samsung Bioepis, a biosimilar referring to Avastin (bevacizumab) by Roche, will be reimbursable from September. The insurance benefit raised the possibility that the price of Avastin could be reduced by 20%.
Onbevzi's reimbursement rate was set at 208,144 won ($ 178.3) for a dose of 0.1 g / 4 ml and 677,471 won for 0.4 g / 16 ml, or 69% and 63 % of the reimbursement rate of the brand-name drug Avastin, respectively.
As the biosimilar receives insurance benefits, the government can reduce the price of Avastin by 20% as part of local drug pricing policy.
The government may have considered lowering the price of the drug Avastin, regardless of the arrival of a biosimilar.
The National Health Insurance Service (NHIS) had previously designated Avastin as a drug subject to the price-volume deal negotiation system in the third quarter of 2021. The government is using the system to protect health insurance funding by lowering the price of the drug. drug and maintaining the large volume of drug use.
The use of Avastin, a vascular endothelial growth factor (VEGF) inhibitor, has recently increased as doctors use more combination therapies including targeted therapy and immunotherapy in the treatment of cancer.
Avastin is used for colorectal cancer, breast cancer, non-small cell lung cancer, kidney cancer, glioblastoma, ovarian cancer (cancer of the fallopian tubes or peritoneum), and breast cancer. cervix. Last year, Avastin sold more than 120 billion won in Korea, according to data from IQVIA.
The government was evaluating the possibility of reducing the price of Avastin due to the growth in sales of Avastin. Second, the reimbursement of the biosimilar Avastin came at the best time to help the government justify the lower price of Avastin.
A drop in the price of Avastin could stimulate talks to allow reimbursement of Tecentriq in the treatment of liver cancer.
Roche has requested reimbursement for Tecentriq in combination with Avastin for the first-line treatment of advanced liver cancer.
The Health Insurance Review and Assessment Service (HIRA) Cancer Drug Review Committee adopted the request in February. However, there was no progress in the discussion to put the item on the agenda at a meeting of the Drug Review Committee.
According to the doctors, the delay occurred because Avastin costs more than Tecentriq in the combination treatment Tecentriq plus Avastin. Ironically, the government must spend more on Avastin, whose patent had already expired, than on Tecentriq, a new immunotherapy.
Thus, the increased reimbursement of the biosimilar Avastin and the lower price of Avastin could lead to insurance benefits for Tecentriq in the treatment of liver cancer, pharmaceutical industry officials said.